TRAVELLING WITH PETS
The following is information provided by Peter and Linda regarding bringing household belongings and pets into Mexico and travelling with them, including pet friendly hotels.
You may have heard things about needing 1) a list of stuff and 2) an international health certificate for pets. For #1 – from our experience…yes…make a list if you have a car load of stuff. Travelling in May 2010 we had everything except the kitchen sink. We had 15 boxes (numbered) and everything else pushed in everywhere else. We made 2 lists. The first listed what was in each box, where the box was (inside or on the roof), the box number and the USD value. The second list just had a summary of everything else and the USD value. We kept descriptions very simple…clothing, shoes, glassware, home decorations, laptop, stereo system, etc. We translated everything into Spanish. The lists were hand written by myself. I made 2 sets - one for us and one for immigration. Immigration showed no interest in taking a list. We had heard that keeping the total valuation below 1500 USD was important. I have no idea where this figure comes from but my wife was the expert on this … so we came in at about 1420 USD.
We waited maybe 10 minutes for an English speaking immigration officer to come over. The first thing he said was… "Do you have a list?" Indeed we did…the rest was easy. He took the list and asked me to wait in turn (I was second) to pay duty. He marked an 'X' on some items. When my turn came I was ushered into a small office where an immigration officer proceeded to work up an invoice of what we owed. I walked maybe 30 yards directly across the road to the Banamex office, paid 735 MXP, received a receipt, showed the receipt to the immigration officer, received my USA driving license back, went to our vehicle then drove up to the gate and hit the button. We received a green and off we went. I did ask what happens if we received a red. The immigration officer said that we would have to be inspected, but fortunately we did not have to experience that.
All in all it took us about 45 minutes to get through immigration. We arrived about 11:30 and it was very quiet. On our XMAS 2009 trip we were there at 7:30 am on a Sunday. It was packed with Mexicans with their trucks full of items they were declaring items. I can only assume that early mornings are busy.
For #2 – do not bother with the health certificate. It is a waste of money. At XMAS 2009 we spent $500 to get one for our 3 dogs. No one asked for any documentation anywhere in Mexico about our dogs. In May 2010, all we had was the shot records for all 4 dogs … again no one asked for anything. Do yourselves a favor and save $$$$ - just take your pet's records.
PET FRIENDLY HOTELS
I was able to find four places along our route that took dogs. Hotel Hacienda Escondida on the northern outskirts of CD Victoria at KM 5. The location is great since it allows very easy access back onto RT 83 to get you into Tampico. Email: alma.hescondida@hotmail.com. For people with pets they prefer to put you in a 'cabana', which is essentially a small apartment with 2 bedrooms, a toilet/shower and a sitting room. It is a pretty basic place. When we were there the A/C (window units) was not working too well, but there was a fan. It was clean and there is grass outside to walk the dogs. A Pemex is across the street about 100 yards away. The people are friendly and helpful. We paid 660 MXP plus a 300 MXP deposit for our 4 dogs that was returned when we left. If I did not have pets I would not stay here since there are much nicer hotels in town.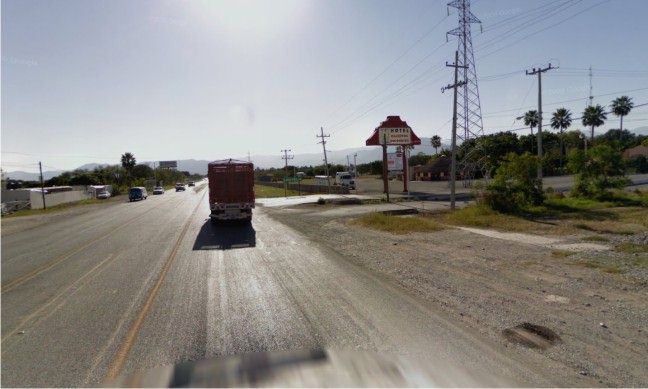 Dave makes mention of the Hotel Bonitto on the outskirts of Tampico. I believe I did see the place on the right side as we neared the airport. It appeared to look much like a motel of old. Single storey rooms directly off the main road. I had been in communication with this motel. Email: reserva@bonitoinn.com. They charge 60 USD for a Double room plus a fee of $ 15.00 US for each pet. We did not stay here. (edited...This hotel appears to be approximately 1-2 miles after the "Altimira" land mark boat.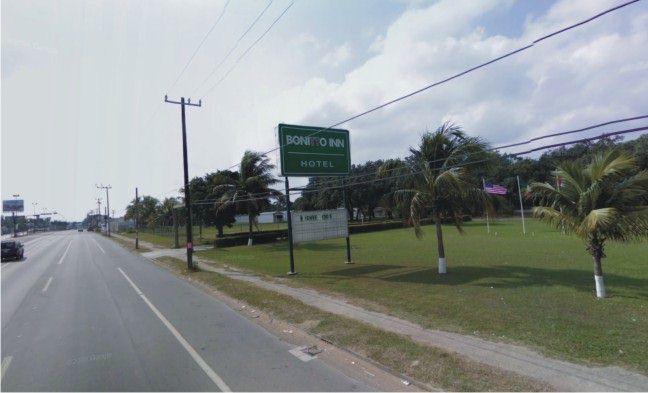 The Torre Molino on the Emerald Coast. Email is hoteltorremolino@hotmail.com. This is our favorite hotel. It is rustic, clean and simple. The location cannot be beat – it is directly on the beach. To walk the beach is fantastic – the sand is black and the beach is empty. We paid 1050 MXP. There is no extra charge for pets. They have large areas of grass. In May 2010 we ate dinner at their restaurant overlooking the waves. They are located at approximately KM81 on the coast road. It is very easy to find. They have a massive sign directly across the road from their entrance which is lit up at night (thank goodness for that – else we would never have found it during our XMAS 2009 trip when we arrived at 10 PM). My emails have always been with Jose Antonio. His English is perfect. Every time I have arrived no one there speaks English… but this has never been a problem. (edited...There appears to be an advance warning sign for this hotel about 1/2 mile before the hotel)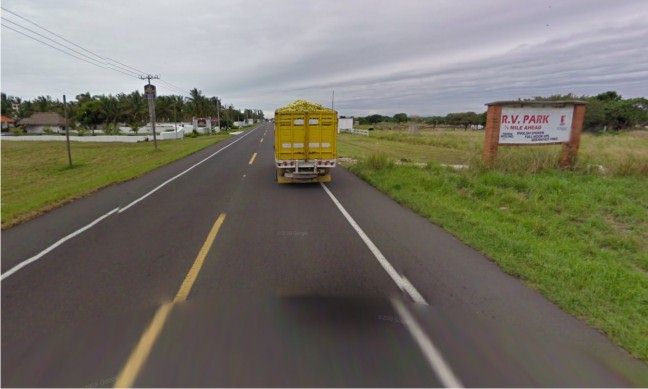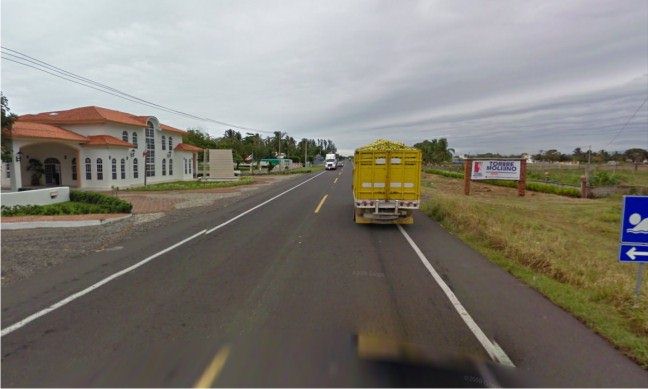 The Hilton in Villahermosa. We booked this through Hotels.com and paid 96 USD with all taxes. The kicker here is that they charge a non-refundable fee of 250 MXP per pet (plus tax), so we paid about 1040 MXP for our four dogs. It was steep but worth it for peace of mind. The hotel room was fantastic – very modern with one of the best hotel bathrooms we have ever seen.
Email:

edith.aguilar@hilton.com

.

The only problem is actually getting to the hotel. It is not signposted. It is located just east of the airport. You won't see it on Google maps. Drive straight through Villahermosa on the main drag. Stay in the left lane since there are a lot of cars coming into the main drag from feeder points from the right. Once through town keep going towards the airport (for which there are hardly any signs)… maybe 10 km.

Do not take the airport exit

… keep going and just past the airport exit you will see the Hilton on your left on a small hill. It's a pretty impressive building – long and about 4 stories high. As you pass the hotel get into the left lane and take the 'retorno' which is less than 1 mile past the hotel. Get into the right lane as you come back towards the hotel and you can pull off from the main road directly up a small rise into the hotel arrival area.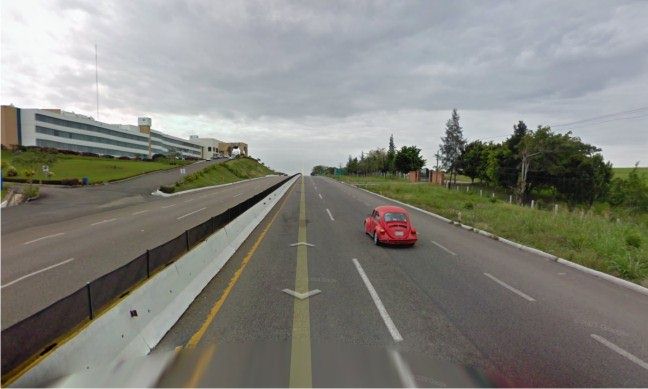 Hopefully these directions, maps, diagrams and pictures will be of help to first time drivers through Mexico. If you see any errors or ommisions please feel free to contact me with your comments at. dave@davegrundy.ca